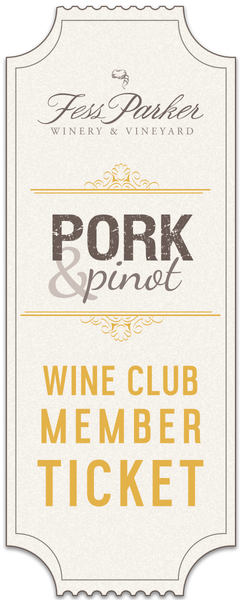 2018 Pork & Pinot - Wine Club
Description
Join us for a special evening as we take a moment to celebrate the 2018 Harvest. We are excited to have The Bear And Star back for this year's event showcasing their signature refined ranch cuisine.

Their focus on organic, pasture-raised pork will pair beautifully with our portfolio of Pinot Noir wines and make for a festive, mouthwatering, family style meal.

Join us as we raise a glass of our own Fesstivity sparkling wine to toast our winemaking team and Mother Nature in thanks for a successful harvest.

Make your reservations soon, as this event will surely sell out quickly!
Menu:
Maple glazed smoked pork belly with spicy greens, chicharron, cherry vinaigrette
Berkshire pork shoulder ragout wiht roasted rood vegetables, crispy kale
S'mores panna cotta with bacon crumble

$125 per person / $90 per Wine Club Member