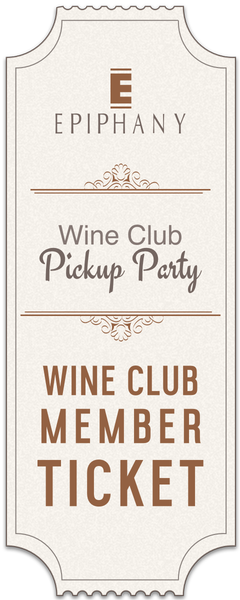 2018 Epiphany Pickup Party - Sunday, Nov 4
Description
10:30 AM to 12:30 PM Sun, Nov 4, 2018
Venue: Epiphany Tasting Loung
Join us for an Epiphany Wine Club Member Pick-up Party! Come by the Tasting Room Sunday, November 4th from 10:30AM-12:30PM and enjoy artisan pizza and a sneak peak of the new releases in your shipment! Kevin Graybill will be on hand for your listening pleasure. Join us at the Wine Club Pick-up Party for live music, savory food and of course a chance to enjoy great wine!
This is an Epiphany Wine Club Member Only event, limited to 125 members per day.
Tickets are $15 per person with a maximum of two tickets per Wine Club Member
Note: Cancellations on above events must be made 48 hours in advance to receive a refund
Dress is casual.