Holiday
Shipping Deadlines
Last day to place your order
for $10 flat rate shipping:
Christmas: 12/12
New Year's: 12/19
The Bubble Club
Enjoy the best bubbles from Sta. Rita Hills and Santa Barbara County all year!
How it Works:
Once signed up, you will receive four shipments yearly consisting of two bottles of our most recent release of one of our award winning sparkling wines as well as updates from the Parker family. The cost of each shipment will reflect a 20% discount and will be charged to the credit card you've provided shortly before it is ready to be shipped or picked up.
How to Join:
There is no fee to join and you may cancel any time after you receive your first shipment. Simply click "Join the Club", fill out the form and we will take care of the rest!
For more details, please contact Elaina at:
(888) 877-3335 or wineclub@fessparker.com
Bubble Club
Four shipments per year of two bottles of our latest release sparkling wine
Recent Bubbly Included:
2018 Brut Rosé
Join The Club
Benefits of Membership
20% discount on wine club shipments and all wine purchases made throughout the year
15% discount on all retail Tasting Room merchandise
First opportunity to purchase non-Bubble Club shipment wines before they are offered in the tasting room
Invitations to Bubble Club member only events at The Bubble Shack, SB Wine Collective and beyond
Wine tasting for up to four people at special Bubble Club member price of $14/person; no limit on number of visits*
20% savings on wine purchases and complimentary wine tastings for four at Fess Parker Winery and Epiphany*
10% savings at The Fess Parker Resort in Santa Barbara**
20% savings (accommodations only) at the Fess Parker Wine Country Inn, a Preferred Hotel Group Property**
* Glass not included
** Valid on future stays after receiving your first shipment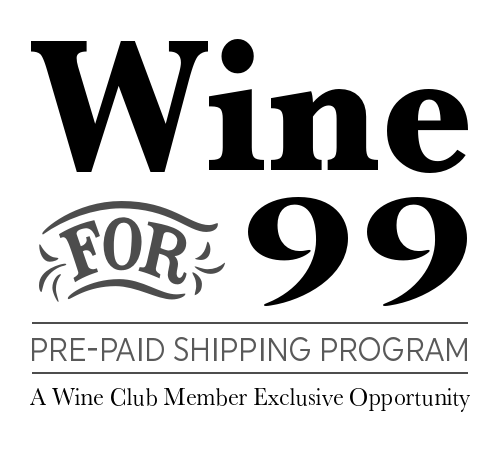 For only $99 a year, enjoy unlimited standard shipping on all Fess Parker Winery purchases. This also includes your quarterly wine club shipments.
Your membership is valid for a full year from the date of purchase.
To add WineFor99 to your membership, please call Elaina at 888-877-3335 or email wineclub@fessparker.com
*standard shipping is UPS ground or GSO
**Excluding Alaska and Hawaii
Club Shipment Calendar
Winter
Bubble Club Shipment
February
Spring
Bubble Club Shipment
April
Fall
Bubble Club Shipment
September
Holidays
Bubble Club Shipment
December